Looking for greater capacity, continuous material flow, and reduced downtime at your heap leach mining operation? Superior's mobile Heap Leach Conveying system is designed in a custom, comprehensive manner for peak material handling efficiency.
At the core of the system is the mine-duty TeleStacker Conveyor, which is engineered with an internal stinger conveyor that maintains constant motion along a cell, distributing material evenly to achieve a flat top to each heaped pile, while also piling more material per move. The horizontal index conveyor, a feed conveyor, and multiple grasshopper conveyors are integrated into the system to ensure that a smooth flow of material is fed to the TeleStacker Conveyor.
Each conveyor is engineered with maximum mobility in mind. Superior's total systems approach takes into account the specific requirements of your operation. Improve your productivity with a mobile heap leach conveying system from Superior!
Conveyor Functions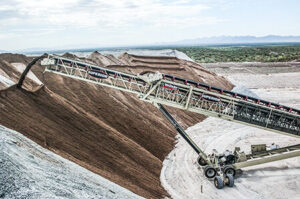 Telestacker Conveyor
The tail of this stacking conveyor mounts to the framework of the HIC [Horizontal Index Conveyor] and radially pivots around this point. The unit's stinger conveyor telescopes an additional 30 to 70-ft (9.1 – 21.3m). This allows the stacker to pile more tons per move and creates flat top piles, which reduces reliance on dozers to prep the heap for irrigation.
---
Horiztonal Index Conveyor (HIC)
Equipped with a tracked drive, the TeleStacker® Conveyor is mounted to the frame of the HIC [Horizontal Index Conveyor]. The HIC moves itself and the TeleStacker® Conveyor along a cell's centerline. This fully skirted conveyor is able to accept material feed at any point, which reduces moves and maintains uptime.
---
Horizontal Feed Conveyor
In between and perpendicular to both the HIC [Horizontal Index Conveyor] and grasshoppers, this portable conveyor transfers material from the grasshoppers and feeds the HIC.
---