Breaking Technology
All Promac breakers come fully CE compliant, supplied by Sandvik Mining and Construction Oy, Lahti, Finland and are manufactured in accordance with ISO 9001, ISO18001 and ISO 14001 standards. Quality control processes from the factory right up to the point of installation ensure that each and every Promac breaker will have you making an impact in no time.
Promac branded breaker offering of silenced and pin-on hydraulic breakers is here. Promac range has been strategically placed to offer competitive products that are good quality and cost effective for the  market.
Vibration dampening system Less vibration/damage to the carrier


 

Sound suppression system Environ – mentally friendly and compliant with regulations


 

Easy to service, less downtime, more productive


 

Easy to service, lower owning & operating costs

 
Massive tool sizes, better productivity and durability

 

Nitrogen accumulator protects carrier's hydraulics for lower repair costs

 

Idle Blow Protection (PM17C, PL20C, PL30C) prevents idle strokes which avoids internal stress extending life span driving to lower owning and operating costs

 

Automatic greasing system as retrofit for PM17C, PL20C, PL30C Easy to install, protects to premature wearing at critical hammer parts in order to keep peak performance and extended life span

SILENCED RANGE
The Promac Silenced range of hydraulic breakers have increased noise prevention, making them ideal for urban applications. The range comprises three families of hydraulic breakers, all of which come with a box type housing.
PIN-ON RANGE
The pin-on style housing has been especially fabricated to offer optimal space utilization during transportation as it allows the breaker to tuck in when mounted on tractors or backhoes. Designed to provide the most simple and cost-effective solution to your breaking needs.
Compact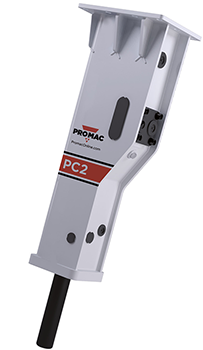 Medium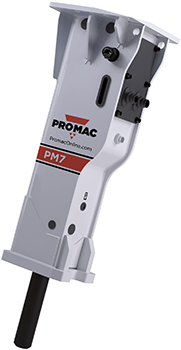 Large